SFN+ Hi-Def





Experience the space program like never before in stunning high definition video!
How do I sign up?
Standard-def archive

Shuttle mission STS-119

Take a loop around the International Space Station aboard the shuttle Discovery in stunning high definition.

FULL INDEX

Launch of Kepler

Kepler planet-finder begins its mission to discover Earth-like worlds orbiting other stars in the galaxy.

FULL INDEX

Shuttle mission STS-126

High definition from orbit! New clips from Endeavour's mission to the space station.

FULL INDEX

From the vault

Historical footage from the early days of the space program.

FULL INDEX

Become a subscriber
More video





We are pleased to offer the following high definition video of the X-37B mission to our Spaceflight Now Plus subscribers. These video files are presented in 720p resolution. Learn how you can subscribe to Spaceflight Now Plus.

Questions about the high definition video can be emailed.
Atlas launches second X-37B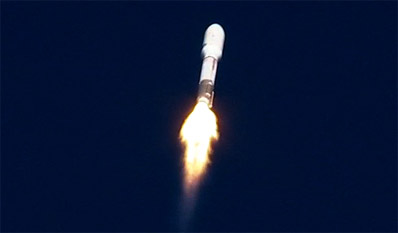 The second Orbital Test Vehicle, the U.S. military's secretive mini space shuttle, was launched atop an Atlas 5 rocket Saturday, March 5 at 5:46 p.m. EST from Complex 41 at Cape Canaveral, Florida.

SCRUB | PREVIEW | LAUNCH!

Earlier Hi-Def Coverage
Maiden launch of SpaceX Falcon 9
Shuttle mission STS-132
Shuttle mission STS-131
Shuttle mission STS-130
Solar Dynamics Observatory
Delta 4 with GOES P
Shuttle mission STS-129
Ares 1-X flight test
Delta 2 with STSS Demo
Atlas 5 launches PAN
Delta 2 launches GPS 2R-21
Shuttle mission STS-128
Shuttle mission STS-127
Delta 4 with GOES O
LRO and LCROSS lunar launch
Shuttle mission STS-125
Shuttle mission STS-119
Shuttle mission STS-126
Shuttle mission STS-124
GLAST gamma ray observatory launch
Free Preview!
Watch a free preview of our new high definition video clips from Discovery's mission to the International Space Station. Please check your computer meets our system requirements below. If you have any comments or suggestions about our video service please send us an e-mail.

DOWNLOAD

Can I play this video?
High definition video requires more computing power than regular internet video. Please check that QuickTime 7 is installed on your computer and your system meets the following requirements:

Windows

2.0 GHz Intel Pentium 4 or faster processor

At least 512MB of RAM

64MB or greater video card

Windows XP Service Pack 2 or Vista

Mac OS X

1.8 GHz PowerMac G5 or faster Macintosh computer; 1.83 GHz Intel Core Duo or faster
At least 256 MB of RAM
64 MB or greater video card

The video will download as a zip file.

Note: These high definition movies will not play on an iPod or iPhone.

Watch on your big screen TV
You can watch our high definition video movies on your big screen TV if you have a compatible set-top box such as an AppleTV
or Xbox 360
. Let us know by e-mail if you've been able to play these videos using another type of device.